Ever since I was in grade school, I knew I wanted to be a doctor. I discovered radiology in middle school, and you could say it was my first love.
When I started a family, a new love came into my life, but that did not diminish my passion for radiology. I wanted a well-rounded life: a fulfilling radiology career and significant time with my family. I honestly thought a traditional radiology career could provide a healthy work-life balance, but during residency, fellowship, and a few years of private practice, I had not managed to achieve it.
And so I started to look elsewhere.
After much research, many conversations with mentors, and some real soul-searching, I ultimately took a leap of faith to try teleradiology at vRad. And I discovered exactly the work-life balance I wanted. Now I am able to do a great job taking care of myself, my family, and my patients.
I know I'm not the only mom—or parent—who wants to learn how to balance a radiology career and family, so I wanted to share my experience. Here's my story of how teleradiology changed my life and a few tips for radiologist moms considering remote work.
The Realities of Being a Parent and a Radiologist
Rads in traditional positions can easily fall prey to burnout, even those with no familial responsibilities. We also know from recent research that women report burnout at a higher rate than their male counterparts. This is reflective of the added stress levels for moms in radiology as we try to balance long working hours while also caring for children.
For more on this, see the recent story from my colleague Dr. Nina Geatrakas, Helping female radiologists battle the disproportionate burden of burnout.
Before switching to teleradiology, I had a traditional radiology job that significantly affected the time I could spend with my first child. I worked the entire workweek starting my workday at seven while my husband and nanny helped my daughter get ready and go to school.
Then I wouldn't get home until the evening, giving me just a few hours with my family while I helped with dinner and the nighttime routine. Add to that the requirement of working weekends and night shifts, and all I had was a recipe for sleep deprivation and burnout. Even when I was home, I wasn't fully present. I was exhausted, especially when the occasional night shifts affected my circadian cycle.
These schedules are the norm for medical professionals, especially radiologists. We feel immense pressure to do the best for our patients despite the growing workload demands. All the while proving ourselves as radiologists so we can someday make partner.
For me the push for partner track was just not worth missing out on experiences with my children. I wanted to be a present and engaged parent, while also having a rewarding career, and it turned out the answer was teleradiology.
An Opportunity for Both Superb Quality of Life and Superb Patient Care
Now, I live a well-rounded life where I can fully dedicate myself to my career and family. Here are a few ways that teleradiology has completely changed my life so that I can be both a great mom and a great radiologist.
Flexible Schedule: I work only four days a week, and my work day ends at four. Although I sometimes work weekends, it's only of my own volition. I still have plenty of time to enjoy my family, exercise, and spend quality time with my husband. And with the unpredictability of motherhood, a practice that allows me to sign off to handle an urgent issue at home is a game-changer. I know those studies on my worklist will simply go onto the worklists of other great vRad radiologists working at that moment.
More Freedom: When my daughter wants me to chaperone her field trip or take time off to eat lunch with her, my answer is now yes. There's no worklist pressure or strict minimum reading expectations with vRad, which gives me the freedom to organize my schedule around my family.
Accommodations for Mothers: When my first child was born, the traditional radiology practice I was with did the best they could to accommodate my new responsibilities as a mother—including pumping between cases in my hospital office, which most working moms would agree is awkward at best. Now with vRad, it was a luxury to breastfeed my second child for an entire year from the comfort of my own home office. My proximity and flexible schedule let me take breaks as needed to care for my newborn.
Improved Efficiency: I no longer waste my time doing menial tasks like commuting or wandering around the hospital looking for a doctor. Everything I need is online. I simply head a few steps to my home office, sit down, and work. My family knows not to bother me when I'm in my office, which further helps limit distractions so I can provide superior patient care.
Increased Motivation: This flexibility and increased efficiency motivate me, making my job all the more fulfilling. In fact, I have zero desire to retire or even plan to retire. I would be happy and fulfilled working as a teleradiologist my entire life.
Supportive Environment: What makes this job even better is the environment. Even though it's a virtual setting, I work with a team of individuals who appreciate my skills and also love what they're doing. Not to mention the other parents at vRad understand first-hand the challenges of being a working mother.
Tips for Parents Considering Teleradiology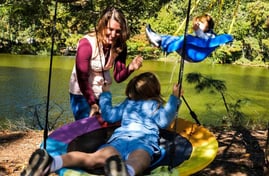 Let me be frank: switching to teleradiology was scary. It required a leap of faith into the unknown. But in that process, I discovered a dream job that I never even knew existed.
I think many other radiologist parents can benefit from the flexibility that teleradiology offers, but it does require significant consideration. To help you in that process, here are some of my tips to create a healthy work-life balance with teleradiology.
Establish Your Priorities
The first step in deciding whether teleradiology is the right option for you is to think about what's most important for your career and personal life. As you're evaluating your priorities, don't forget to consider factors that can dramatically impact your quality of life such as schedule flexibility and productivity expectations. These are critical for parents who want to balance time with their kids without sacrificing their careers. It is absolutely possible to be a great parent and a great radiologist—earning very good income. Just be aware that not all work environments are conducive to this so upfront homework can save years of heartache.
Set up a Separate Working Space
Radiology requires extreme focus and privacy, which means you need to have a designated workspace that physically separates you from the people in your home. Setting up a space in your bedroom or an area off the living room might work for other remote jobs, but probably not for teleradiology.
Ideally, you would need a completely separate space to comply with privacy regulations and create a healthy boundary between your work and living areas. Plus, physically distancing yourself from the noise of your children can allow you to press pause on your parental responsibilities and focus on patient care.
Invest in Childcare
The main reason I decided to work from home is to spend more time with my children, but that doesn't mean taking care of them during working hours. Like with a separate workspace, investing in childcare helps establish a healthy boundary so that you can wholly focus on reading cases during your working period, then fully engage with your children and family outside of work.
Set Clear Expectations
If there will be a caregiver or your partner home while you're working, setting clear expectations and boundaries is critical.
What time are your working hours? How should the caregiver contact you if they need something? By phone, text, or a knock on the door? What are acceptable reasons for an interruption? Who else can they contact with questions? Is the caregiver responsible for meals and cleaning? All these points need to be discussed early on so that you don't fall into the habit of trying to simultaneously handle your home and professional responsibilities.
Familiarize Yourself with Teleradiology
Teleradiology really isn't discussed much, not in training, fellowships, or traditional radiology settings. That makes switching to teleradiology all the more intimidating. But if your family is a priority for you speaking with other teleradiologists or with a recruiter is a great way to learn what teleradiology could look like for you and remove that fear of the unknown.
As you are evaluating your next radiology career move, I hope you consider vRad. If you'd like to speak to me directly, please request to be contacted here and mention my name. I'd be happy to share my experience and answer your questions.