Two components are essential to successfully establish, develop and sustain applied AI in radiology: Uncompromised collaboration between radiologists and computer scientists, and access to a constant flow of data that is representative of a highly diverse population. This is the foundation of vRad Radiology AI.
Empower the team with radiological and digital data expertise
A dedicated vRad team of leading radiologists, expert data scientists and product engineers work side by side with a common goal of leveraging advanced technology to improve their patients' outcomes.
Our computer scientists contribute expertise in developing leading-edge AI algorithms that are expanding the boundaries of machine learning. They recognize that creating systems that affect patient outcomes requires understanding diagnostic imaging and the individual experience of each radiologist reporting from a workstation.
Our radiologists provide clinical insight. They bring practical experience that spans the complete spectrum of subspecialties, modalities and reporting requirements. Their diagnoses determine the validity of algorithms and provide insights to refine AI sensitivity and specificity. Their guidance helps determine where application of AI technology has the greatest potential for patient benefit.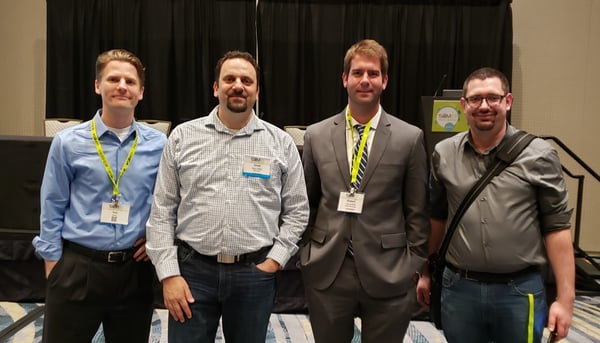 AI Leaders (L-R): Ted Walker, Technical Product Manager (vRad), Imad B. Nijim Chief Information Officer (vRad), Robert J. Harris, PhD Data Scientist / Machine Learning Engineer (vRad), Brian Baker, Director of DevOps and Image AI (vRad)
Fuel AI with large volumes of representative data
AI thrives on data. Small samples of select data are useful for modeling and testing prototype algorithms. However, to build meaningful AI applications that perform consistently in real-world conditions requires large volumes of representative, properly annotated data.
vRad Radiology AI:
The most comprehensive real-time radiology database available
7.5 million studies annually
100,000 imaging devices
2,000+

partner facilities
50 states and Puerto Rico
550

board-certified radiologists
To test and refine AI applications, vRad employs the most comprehensive database of current radiology studies available. The vRad platform processes 7.5 million studies annually, created by over 50,000 imaging devices, from more than 2,000+ partner facilities across all 50 states and Puerto Rico. It compiles the diagnostic reports of 550 radiologists, including generalists and every area of subspecialty expertise.
This huge dataset is projectable to the entire U.S. and can be sampled to address specific patient populations. It contains incidences of virtually every conceivable variation in pathology, modality and circumstance. Further, it is refreshed by over 20,000 new case records every day.
Access to this massive dataset has been instrumental in putting practical AI solutions to work for MEDNAX, and will be vital in helping us continue to refine and expand the role AI will play in the future of radiology.
Focus on the intersection of radiology needs and AI capabilities
Early on, our collaborative team discovered that AI models can be useful in identifying specific pathologies. While it is currently impractical to design an image-reading algorithm that can answer: "What is wrong with this chest?" or "What is wrong with this head?", it is viable to make an algorithm that will reliably identify a specific abnormality, such as intracranial hemorrhage.
With this understanding, our radiologists developed a prioritized list of pathologies. We selected the most urgent conditions, where reducing turnaround times by even a few minutes can be expected to significantly improve outcomes. We considered the frequency with which each condition occurs and kept an eye towards those conditions that are most readily identifiable in imaging studies, providing a higher probability for AI to correctly identify the presence of the given pathology.
Our physicians identified approximately 20 target pathologies for AI development. Five models achieved favorable levels of specificity and were placed into production in early 2019: ICH, aortic dissection, PE, pneumoperitoneum and pneumothorax. These are the subjects of the prioritization AI outlined above.
AI in Radiology

Learn more about the work we are doing in AI.

- Download the white paper

- Read the Case Study
Ensure uncompromised care quality
vRad scans thousands of studies for the five current critical pathologies, which are among the over 20,000 studies conducted by our radiologists every day. Before implementing AI applications, it is first necessary to test the potential impact on all studies and the overall workings of the entire radiology ecosystem.
The benefits from prioritizing specific studies with AI must outweigh any potential delays to non-AI- escalated studies. Based on study volumes and AI accuracy, we can calculate the potential impact of an algorithm on overall turnaround times. In general, we establish at least 90% specificity before we move a prioritization model to production.
Learn more about vRad AI models at work today, helping prioritize critical cases and improve reporting accuracy and compliance.