One in a series from people sharing their experiences as vRad teleradiologists. In this entry, Jonathon Lee, MD, explains what he discovered after stepping away from a partnership position to set sail toward a better work/life balance.
As was my primary goal when I finished med school, I achieved partnership in a successful radiology practice. But, over the years, my priorities changed. I had kids. The demands of being a partner in a traditional practice didn't seem worth the time and attention it required. So, I left the partnership for a teleradiologist position with vRad. The rewards of that move have far exceeded my expectations.
Always close to home
I live in Dublin, Ohio, with my wife and three teenage kids – two boys and a girl. As any parents might, my wife and I anticipate the next few years will be filled with memorable moments and milestones. I don't want to miss a minute of it – especially knowing how much I dread the idea that the nest is gonna get empty all too soon.
With vRad, my office is at home. I'm nearer to my family when they need me. We can check in with one another more easily throughout the day on all matters big and small.
I can't drop a case mid-study just because one of the kids knocks on the door, but I can take a break between cases whenever I need to. When I return to my reading room, I just pull up the vRad system queue and click on the next available case.
If you have younger kids, I think they're going to be a little more prone to pop in while you're working and ask to play a video game or something like that. But, in my experience, it's not hard to keep a healthy balance. My family understands the importance of giving Dad space when he's at his computer.
More time for my family – and for me
This is the first time that I've had a job where I seem to happily show up 15 minutes early for work every day. I literally walk to the basement in my pajamas, turn on my computer and my workday begins.
I've eliminated a commute that used to consume as much as two-and-a-half to three hours every day – even more in the snow or rain or construction season. This gives me 12 to 15 hours per workweek that were previously spent uselessly staring through the windshield of my car. That's time I get to spend with my lovely wife. Or extra time with the kids.
If there's a downside to getting back all that wasted time, now I've got no excuse for not unloading the dishwasher or for not getting to the gym. But I'm learning to live in a more organized home and with getting a little more exercise.
More time for friends
It's important to maintain a social life, especially if you're working at home, so you don't go total Jack-Nicholson-in-Shining from being in the same spot at all times.
I find my social life is a lot better because I am able to put more effort into it. I've got the free time during the week to get out with friends.
In a traditional office setting, I felt obliged to develop relationships with co-workers and colleagues – on occasion going out to lunch or for drinks after hours. Which was fine. I worked with some great people and still value those professional connections.
But now I have the opportunity to choose to spend more time socially with personal friends and extended family. For me, this has been one of the more pleasantly unexpected rewards of working for vRad.
Greetings from Key West
Confession: As I compile this blog entry I'm actually in Key West, Florida. I'm not on vacation. I have a little condo here with its own reading room. As a vRad teleradiologist, I can work from any location with the right computer equipment and a high-speed internet connection.
Often, the family joins me here. This week they had other plans back in Ohio that didn't include me, so I snuck away. Between my vRad shifts, I can spend time pursuing my favorite hobby – hunting among the wreckage of numerous 16th, 17th and 18th century Spanish galleons that met their fates in the reefs along the Florida Straits. It's not just the pursuit of treasure. The history and the sociology and the tax evasion and everything you learn about from that time period… It's just fascinating. Don't get me started…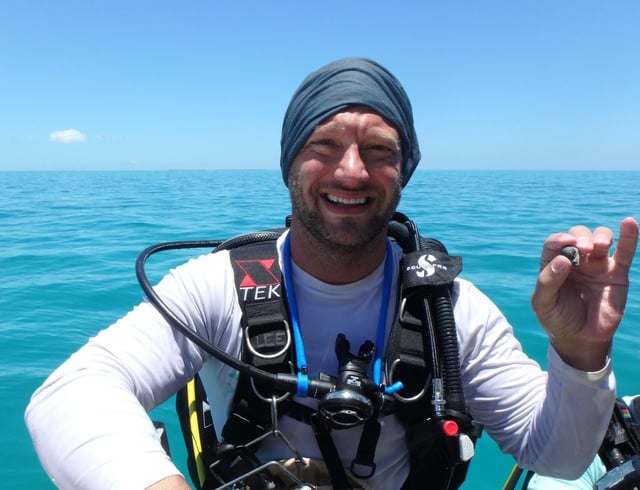 [Dr. Jonathon Lee with a newly found musket ball lost since the Spanish Galleon wreck of 1622.]
I have the ability to practice radiology from anywhere I choose. Plus, I have 26 weeks off each year. So, some of my hobbies, like treasure hunting, they don't have to be hobbies. They can basically be part time jobs if I want.
A bit more about Florida treasure hunting
I got interested in treasure hunting the Florida Straits after hearing the fascinating story of Mel Fisher who dedicated his life to trying to find one of the most valuable Spanish ship wrecks called the Atocha. He spent 16 years, penniless, searching for it before he found it. The sister ship, the Margarita, is not far away.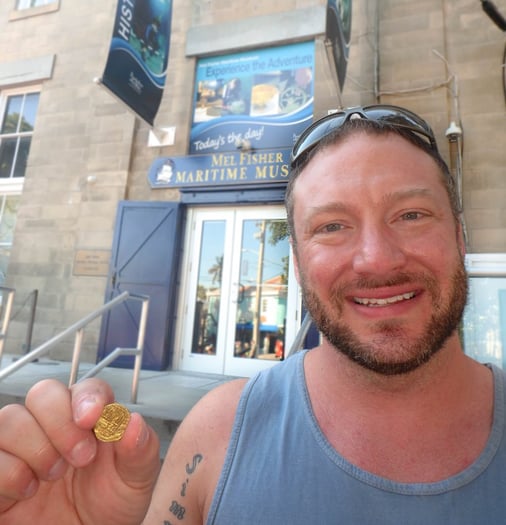 [Dr. Lee with a recently retrieved Gold Coin from a 1622 Spanish Galleon shipwreck.]
In the 16th, 17th, and even 18th century, Spain had control of the New World and would bring home mind boggling amounts of treasure. Gold, silver, emeralds, in addition to other commodities. It's a very dangerous area between Havana, Cuba and Spain, particularly through the Florida Straits from the hurricanes and coral reefs and it doesn't take much of a storm to blow a big sailboat off course onto a coral reef. There are some priceless wrecks all through the area―some of which are entire fleets that went down.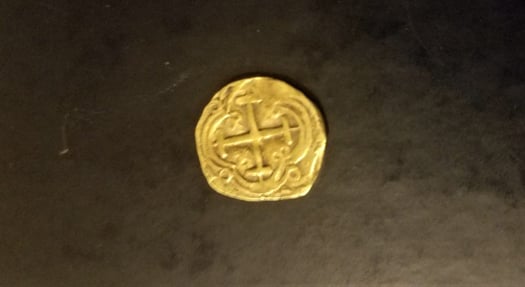 [Closer look at the Spanish Gold Coin from 1622.]
Thanks to some exciting new technologies, we can locate targets using an unmanned submarine controlled from the surface before we dive. Later this week, I'm planning on looking in about 200 feet of water. It's really a lot of fun and it's not just the pursuit of treasure. I wasn't a big history guy until I got into this, but the history, sociology and the tax evasion you learn from that time period is just fascinating.
For me, the move to vRad has definitely put more life into the whole work/life balance thing. In addition, I've never been more excited about being a radiologist. vRad has been more rewarding professionally than I ever imagined it could be.
Hear from More vRad Radiologists