This post was originally going to be about my experience as a mammography technician transitioning to telemammography. But after I started writing, I realized that the real story is about women's health and the difference we healthcare professionals can make in their lives through the decisions we make. From the compassion we show to the technologies we use, our actions impact every touchpoint in the patient's experience.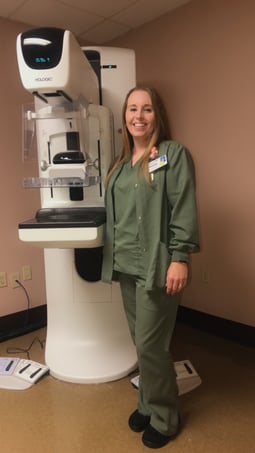 I work in a 134-bed hospital in rural Virginia where we do over a thousand screening and diagnostic mammograms a year. Every day I see women who are sisters, mothers, grandmothers or maybe someone's favorite aunt. Most of the time they're here for a routine mammogram, but sometimes it's more. That's when I do my best to provide them with comfort, clear information and support to help them on their journey.
Like a lot of providers, we struggled to find and retain radiologists for our breast imaging studies. There just didn't seem to be enough radiologists to go around – especially subspecialists. After losing our local radiologist, we partnered with a nearby group to have a radiologist on site only once every one or two weeks. This ended up being very unreliable. For example, even though the radiologist was scheduled to come in to read, occasionally something would come up and they would have to reschedule. If we had a patient with a breast mass, she might have to wait as long as two weeks. And if we were booked up, the wait could be even longer. We started losing patients and for good reason: women were having to wait, but breast cancer doesn't.
This is not the level of care we wanted to provide the women of our community. Our Director of Radiology began looking for alternatives including locums and teleradiology. Ultimately, we decided to work with vRad because of their long history in teleradiology and their subspecialist breast imaging team.
Though we were familiar with teleradiology, breast imaging is unique and we didn't want to sacrifice any personal connection with the patients. We had many questions:
How would I communicate with the radiologist? I'm used to walking down the hall.
How would we coordinate between the radiologist and patient?
What will the patient experience be like? How fast will they get their results?
Is this going to be more work, less work, or is it going to be the same?


Working with Remote Radiologists
It turned out that telemammography is easier than we had anticipated and comes with some distinct advantages. Perhaps most important is that all our breast imaging exams are now read by a fellowship-trained breast imaging radiologist. I can't stress how important this has been to the overall level of care our patients are getting.
For me and my fellow technologists, the process of telemammography is not all that different. For a typical screening mammogram, after the examination I'll send the images and a few minutes later receive the results. If the radiologist has any concerns, they'll call me by video phone to speak "face-to-face" and review the images together. It really does feel like I'm talking to a radiologist down the hall.
The Patient Experience
Of course, what really matters is the care our patients receive and the experience they have at our facility. This has been the most significant improvement since adopting telemammography. Instead of having to wait weeks for diagnostic results, I can now tell them that they're going to get the answers that same day – and they'll be speaking directly with the radiologist. I love that I no longer have to send the patient home to wait anxiously for their results.
After I do the initial review with the radiologist, I'll bring the patient into the room and we'll go over results together with the radiologist via video phone. This is a huge difference for our patients, because before the switch, they rarely got a chance to speak face-to-face with the radiologist.
My mother was diagnosed with breast cancer which prompted me to get a mammogram...and an ultrasound. I was told I was going to speak with the doctor who read my images –– virtually. I didn't quite know how it would all work and I was anxious. The experience of speaking with Dr. Sussman virtually was calming, almost surreal. She was sitting in her office, it was a quiet and peaceful atmosphere. That would be the start of my breast cancer story, one that I shared at the same time as my mother.

I had my first and last mammogram on the same day. Dr. Sussman had the first hand in saving my life and had she not seen what she saw and made the decision that she did as quickly, my story would have been completely different. Instead, I had a double mastectomy and am grateful every day for what Dr. Sussman advised.

Katherine Sykes, Breast Cancer Survivor
BI-RADS, Support and Compliance
When we started considering telemammography, we had no idea the level of support we would receive when it comes to QC and compliance issues. While these processes are obviously important for patient care and safety, they can also be daunting for providers, especially smaller departments like ours. It's reassuring to me that vRad's lead interpreting physician performs all the necessary audits to make sure everything is tracked accurately. My contact Tammy on the vRad support team is a former mammography tech and makes sure we have all the documentation in order so we're in compliance for state inspection. She even makes herself available the day of an inspection to pull any of the additional information requested by the inspector. It's nice to have one less thing to worry about.
Lastly, I'd like to touch on the technology platform that vRad built to support their telemammography program because it has been very important in simplifying our day-to-day operations. One thing I really like is the way the vRad technology tracks BI-RADS automatically, versus our mammo team having to input the data manually. With the automated BI-RADS report, we can track all of our patients to ensure those that require follow-up exams get them on time.
Passion For Our Practice and Our Patients
I love what I do and the impact that I can have on women's lives. I remind myself every day that it's not just what I do, but how I do it that can make all the difference to my patients. I'm happy to be able to share this passion with others. In fact, watch a recent livestream where I joined vRad Medical Director and Director of Breast Imaging, Arlene Sussman, MD and Regional Vice President of Radiology, Steward Medical Group, Kaushal Mehta, MD, MBA for discussion about expanding access to subspecialist imaging in honor of Breast Cancer Awareness Month.