If radiologists are the brain of vRad, our technology is the nervous system, delivering impulses—in the form of images—to our radiologists working across the country and the world.
To kick off 2018, I sat down with our Chief Medical Officer, Dr. Benjamin W. Strong, to explore his perspective on uniting clinical necessity and technology development here at vRad.
Let's dive in!
Q. How does vRad inject a clinical perspective into our technology development process?
Dr. Strong: Four years ago, when I took on the role of vRad CMO, I had one stipulation: dedicated software engineering resources.
My concern was without dedicated resources, moving valuable platform and workflow enhancements forward would prove difficult. And, to be blunt, I didn't want to be a CMO for a radiology practice that wasn't continually innovating.
As good fortune would have it, vRad had recently hired a new Chief Information Officer, Shannon Werb. He not only embraced the idea of providing clinical leadership with engineering resources, he actively worked with me to build a CIO-CMO relationship that has been fundamental to vRad's technological success.
Together, we formed a cross-disciplinary team to maximize the use of these dedicated resources.
The team is made up of not just the software engineers and not just the CMO, but it involves all the members of our medical leadership, it involves representatives of the practice, and it involves people with just personal interest. It is essentially—from a radiologist standpoint—an open meeting where anyone can contribute and all ideas are welcome.
The team also consists of representatives from disciplines across vRad including marketing, operations, finance, compliance, and client services, we deal with it all.
It results in a number of spin-offs, task forces and additional projects that are otherwise handled in other meetings, and we all come together once a week for a centralized CMO meeting where we review and discuss each project's progress and any roadblocks that have been encountered.
Q. How have these clinically driven resources benefited vRad?
Dr. Strong: Immensely!
When you look at the time course of everything that has been developed over the years, there is a clear acceleration, a clear increase in the utility of the development, and a clear increase in its actual utilization and implementation since the inception of the CMO-CIO partnership model.
We don't just build things. We build things that are worthwhile and we actually put them into place.
Dedicated resources means accountability, which contributes not only to the timely completion of projects but ensures the success of these resources is analyzed and understood.
As an added benefit, it has helped us identify radiologists within our practice who are passionate about the technology they use. In fact, we had one radiologist who contributed so much feedback that he was invited to join our weekly clinical update meetings – and I ultimately decided to dedicate technology resources specifically for him to direct as he sees fit.
Q. What have been some of the major success stories to come out of the clinically directed development process?
Dr. Strong: Everything developed for clinical use at vRad in the last 4 years has run through our weekly clinical development meetings. Due to the scope of the meeting, we can track progress across all areas of clinical technology development and prioritize engineering and non-engineering resources appropriately.
I continue to believe the most exciting areas of work we discuss is NLP or Natural-Language Processing.
It enables research, it enables structured reporting, it enables quality assurance.
I'm confident that NLP will continue to be an important area of focus for vRad technology developments in 2018 and beyond.
Interviewer Aside: Dr. Strong has a lot to say on NLP! So stay tuned for a dedicated interview on the topic.
Q. Is artificial intelligence (AI) a topic of discussion at these meetings?
Dr. Strong: Definitely. In fact, vRad received our first patent in AI workflows at the beginning of 2018.
Here at vRad, we realized early on that the goal of using AI to replace radiologists isn't feasible today – and may never be.
Instead, vRad's AI strategy is focused first and foremost on teleradiology study distribution workflows. Our current initiatives ask AI to evaluate binary decisions:
Does this Head CT show signs of Intracranial Hemorrhage? Does this Chest CT show signs of lung nodules?
These "yes" or "no" questions allow us to train specific, targeted models that will create algorithms with a known, impactful purpose.
Our goal is to utilize these algorithms to identify these specific critical findings within images sets, triggering our workflows to route studies to the correct subspecialists before any radiologist has even reviewed the images. The singular purpose allows us to accurately analyze the effectiveness of these models and make further targeted improvements.
In the world of emergency medicine, where time is fleeting, there is real potential to save lives with this approach.
Shannon and I discussed our initiatives in the AI realm after the 2017 RSNA conference if you're interested in learning more.
Q. What happens when a particular initiative or project is complete?
Dr. Strong: The beauty of agile development, which is what vRad uses, is that nothing is ever really done. Even when a "final" version is completed and released into production, we are empowered to revisit projects after data on effectiveness is collected from real-world use.
A great example of this is our study distribution models: data analytics has enabled us to create better and better forecasting and staffing models for predicting volume shifts due to seasons, natural disasters, weekends, holidays, and the like – it's been spectacular. This isn't new territory for us, but our dedication to continuous improvement means our models will only become more powerful as we collect additional data over time.
This cycle is applied to most everything we develop. As we monitor the effectiveness of our tools by collecting data, feedback from clients and input from our radiologists, we continuously improve upon the technology we deliver.
Thank You Dr. Strong!
That's all the time I had to pick Dr. Strong's brain during this interview – but I look forward to sharing more interesting clinical insights throughout the year!
About Dr. Benjamin W. Strong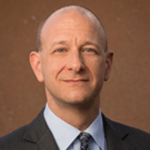 Benjamin W. Strong, MD, is vRad's Chief Medical Officer and chair of the vRad Education Committee, which hosts onsite and online CME education opportunities. He is board-certified in radiology and is fellowship trained in Musculoskeletal MRI. Dr. Strong is a member of the ACR Committee on Emergency Radiology and a Sanctioned Clinical Lecturer on Trauma and Emergency Radiology for the American Institute for Radiologic Pathology (AIRP). When he's not serving as CMO for the leading radiology practice in the nation, he enjoys playing guitar and riding his motorcycle.
Learn more on Dr. Strong's CMO highlight page.
About the Interviewer