While workflows change to balance growing demand for imaging studies with decreasing capacity, it is essential that patient care is not compromised. Radiology practices must be prepared to invest and adapt for the long term to ensure critical performance metrics remain solid in this volatile environment.
As demand for imaging studies increases, the number of radiologists to perform them is flat or declining. As Shannon Werb illustrates in a separate blog entry, this is creating a market-wide capacity imbalance. To restore balance and prepare our practice for the long term, we are investing in processes and technologies that enable radiologists to be more efficient and effective. Performance metrics built into our workflows provide actionable data for managing daily study volumes and identify opportunities for practical improvement over the long term.
The goal: Accurate studies, promptly
As is the case at virtually any radiology practice, we are driven to minimize turnaround without compromising study efficacy. It's not just about enabling each radiologist to handle a potentially larger caseload to keep pace with demand. Consistent results are vital to our partner clinicians, helping them better manage their workloads, set expectations and prescribe treatment plans – especially in time-critical cases such as stroke or trauma.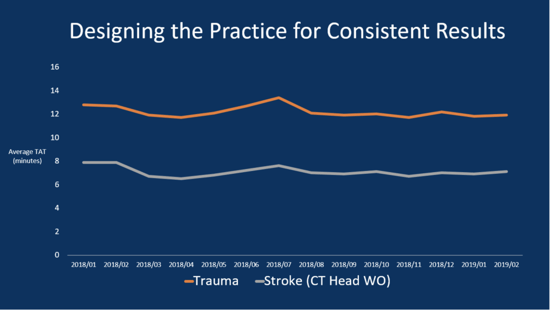 The chart at the right represents monthly average turnaround times for vRad trauma and stroke studies from January 2018 through February 2019. It demonstrates that our workflows are enabling us to deliver timely results on a consistent basis for our most critical studies, despite market or seasonal volatility.
The challenge is to maintain or improve upon these results, despite forecasts of an increased demand for studies to be handled by a relatively finite pool of radiologists. We must adapt our systems and processes to ensure quality patient care over the long term.
Investment critical to shape practices for the future
Proprietary systems are helping power our drive to consistent results. Numerous complex clinical and practical processes are integrated into our workflows. These systems generate metrics to fuel better management decisions, accelerate triage, and streamline case administration – empowering our teleradiologists to spend more of their time providing diagnostic expertise.
Following are highlights of performance initiatives in which we are investing to drive continued improvement:
Recruiting and retention. We diligently ensure our compensation practices attract and retain skilled radiologists. In response to many radiologists' requests, we are exploring opportunities to engage diagnosticians who live part or full time overseas. And we have multiplied the staff dedicated to recruiting and retaining top talent.
Technology platform. Our platform sets us apart, as confirmed by both our partner practices and our teleradiologists. We provide the most effective operational and workflow management system available today. Still, we recognize that continuous refinement is necessary to ensure our leadership for the future.
Artificial intelligence. Our internal AI Incubator is dedicated to improving patient care at the forefront of AI. As the world's largest radiology practice, we have unprecedented access to a massive and highly diverse data set – compiled via our unparalleled technology platform – and an exceptional roster of vRad and MEDNAX physicians to help us curate this data. We've just received our 19th patent, which covers methods and systems for automated image recognition using AI in an electronic workflow and for performing a diagnostic evaluation of a medical image study that can be modified, updated or prioritized. (For more on AI, see Imad Nijim's recent posts.)
Centers of excellence. Our technology platform is connecting specialists and common pathways while eliminating geographic limitations. For example, time-critical stroke and trauma studies are moved to the front of the queue and distributed to radiologists with qualified expertise. Clinicians within COE can be matched with diagnosticians trained in appropriate subspecialties anywhere in the country at virtually any time of day.
Take great care of the patient, every day in every way
Quality care is the heart of our mission. Recognizing we cannot achieve it alone, we partner with clinicians on the premise that both parties are invested as stewards of patient care. Our commitment is to hold ourselves accountable for high-quality interpretations, with consistent and appropriate turnaround times, and careful outlier management. This requires continued investment in performance initiatives, providing value to our clients and contributing to the delivery of great patient care.