More than 41% of radiologists separated from at least one practice over a recent four-year period, according to the Journal of the American College of Radiology, underscoring the specialty's increasingly mobile nature.

Medical facilities bear the brunt of the costs associated with this transiency. Competition for a finite pool of qualified physicians is contributing to salary increases, with the average annual salary for radiologists exceeding $400,000 for the first time in 2019, up 3.6% over the previous year.

But salary growth is only a part of the burden for administrators. When a radiologist leaves, there's the expense of recruiting and hiring a replacement; until the vacancy is filled, remaining staff must shoulder the stress of additional workload, including managing and training an interim locum tenens or a new hire. Any time a physician departs, there's potential disruption for patients under their care.
The reasons radiologists are on the move
Before deciding how to help ensure your radiologists are with you for the long haul, first consider what is motivating so many to look outside of their current practices.
Radiologists want control of compensation
In 2019, the average radiologist salary exceeded $400,000. Radiologists know they have chosen a challenging profession, and they expect to be compensated appropriately when they rise to the challenge. Many practices have developed RVU-based incentives designed to reward physicians who meet or exceed performance goals.

Based on feedback from our network, many radiologists report experience with RVU-based systems not based in reality. They agree to a compensation package only to find incentives are out-of-reach once they begin working within the system. Often, they find the practice does not provide them with the productivity tools – technology, advanced PACS and reporting systems, support staff, etc. – to enable them to achieve their potential.

So, while a large incentive package may attract a radiologist, retention is based on that radiologist's perception that success is within their control.
Radiologists need burnout relief
Radiology is the most mentally demanding physician specialty, contributing to particularly high rates of burnout, according to a recent report in JACR. The research also notes that those early in their careers, and those late in their careers were more likely to have recently separated from a practice.

For early-career physicians, a stressful experience in their first or second placement likely has them looking for greener pastures elsewhere. As millennials, they are in general more sensitive to issues that threaten their desire for balance between life and work. To retain younger physicians, hospitals and medical groups need to provide them flexible, predictable schedules, and access to technology tools that help ease the stress of managing their growing workload. Home workstations are a practical option for medical groups, and attractive to a growing number of radiologists.

Late-career physicians are faced with the same burnout-inducing stressors, leading many to escape through early retirement. Burnout is contributing to the rapid departure of experienced radiologists at a time when their skills are in high demand. To entice senior physicians to extend their careers, radiology administrators must reduce the administrative burdens that distract them from performing studies. In addition, many practices are offering reduced schedules as alternatives to early retirement. Working part time, physicians can keep doing work they love, have more time to enjoy their success, and continue to contribute to the long-term health of their practice.
Create a physician haven
Physicians are on the lookout for new and better opportunities. Is the grass greener on your side of the fence? Does your practice stand out? How does it stand out? Honestly evaluate your practice in four key areas and address any weaknesses.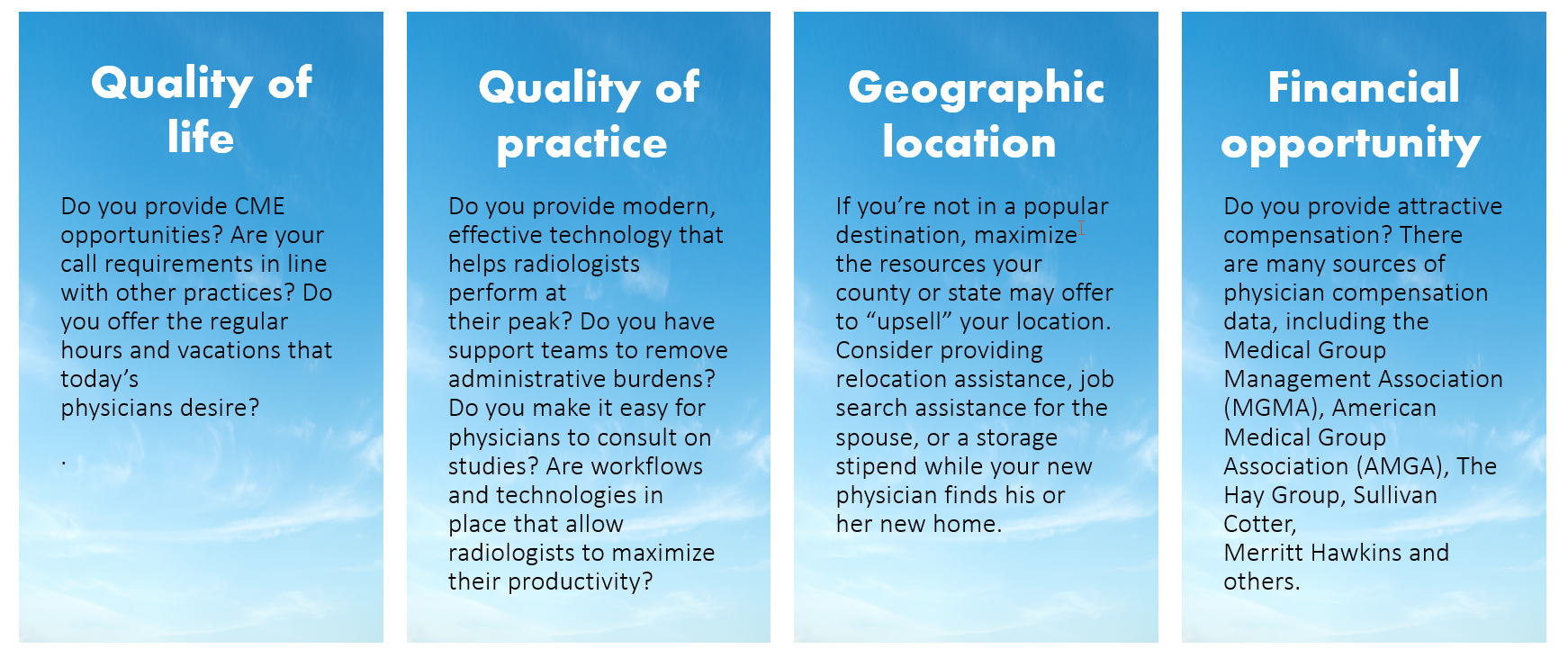 Bolster your onboarding activities
Set up your new radiologists for success—and happiness—through a robust, well-run onboarding program, which includes many of the following ingredients:


Communication: Make them feel a part of your practice even before they walk through the door. Begin sharing practice-wide communications with the new radiologist and including him or her in network building opportunities. Ensure that recruiters make a hand-off to a liaison at the practice who is responsible for the radiologist's introduction.
Support: In addition to thorough technology training, consider first-day support sessions and a formalized mentoring program for the first three to six months.
Family needs: Don't underestimate the importance of a happy family.
Follow-up: Survey new doctors 90 days after their start to gauge their feelings about their new practice.
Implement stay interviews
After working so hard to identify and attract good radiologists to your practice, go the extra mile to ensure their transition goes smoothly.
Conduct informal one-on-one meetings 30, 60, 90 and 180 days after the physician starts the new position.
These should not be performance evaluations, but rather a casual and friendly exchange to learn how the physician is adapting to the new community.
Explore how the doctor feels they fit in with others in the practice both clinically and philosophically.