Our practice is for sale. And frankly, I'm pretty excited about it. Based on past experiences, the sale of vRad bodes well for the future of our practice, our staff and our clients.
What will change. And what will not.
Since I joined Virtual Radiologic in 2004, we've gone through several ownership structures. Each has brought new investment, and with it opportunities to build upon the proprietary service model and technology platform that make vRad so unique and successful.
Those who know vRad – our current client partners and vRad radiologists and team members – will experience business as usual. We won't be changing the foundation of our practice under any circumstances. That foundation is what has supported us over the last 20 years, and will continue to sustain vRad for the next 20 and beyond.
Our new ownership will bring renewed investment in our already strong and growing teleradiology practice, which includes more than 500 radiologists currently serving over 2,100 facilities across the U.S. At the same time, we are also happy for our corporate partner of the last 5 years, MEDNAX, as they return to their 40-year roots in women's and children's health.
Our mission remains singular: Take great care of the patient.
Our commitment to patient care is one thing that absolutely will not change under new ownership. Everything we do at vRad is about enabling radiologists to be responsive and collaborative with clinicians seeking diagnostic insights.
For our radiologists, that means creating a stable environment where each one is more productive, less stressed, has greater earning potential, and can focus exclusively on the radiology they are trained to provide. Owner investment in our patented workflows, artificial intelligence, and other technologies has allowed us to scale the practice while ensuring each radiologist has the tools needed to stay focused and be responsive.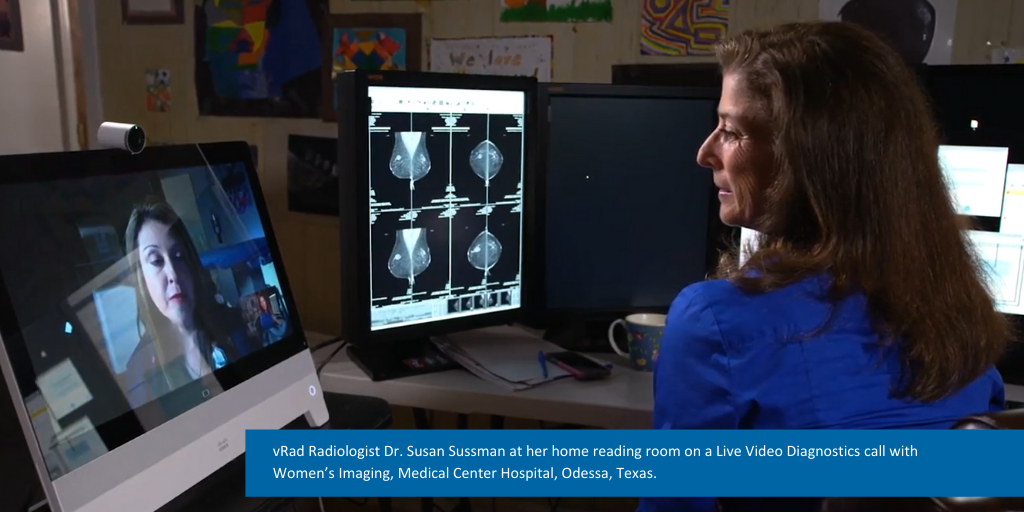 For our clinical partners, that means 24/7 access – days, evenings, overnights and weekends – to general and subspecialty radiologists who deliver prompt, accurate diagnoses, and who quickly identify and escalate critical studies and will consult with ordering physicians as needed. Our accuracy rate is 99.7%. Our average turnaround time for emergent cases is under 30 minutes, for trauma studies under 12 minutes, and for stroke under 7.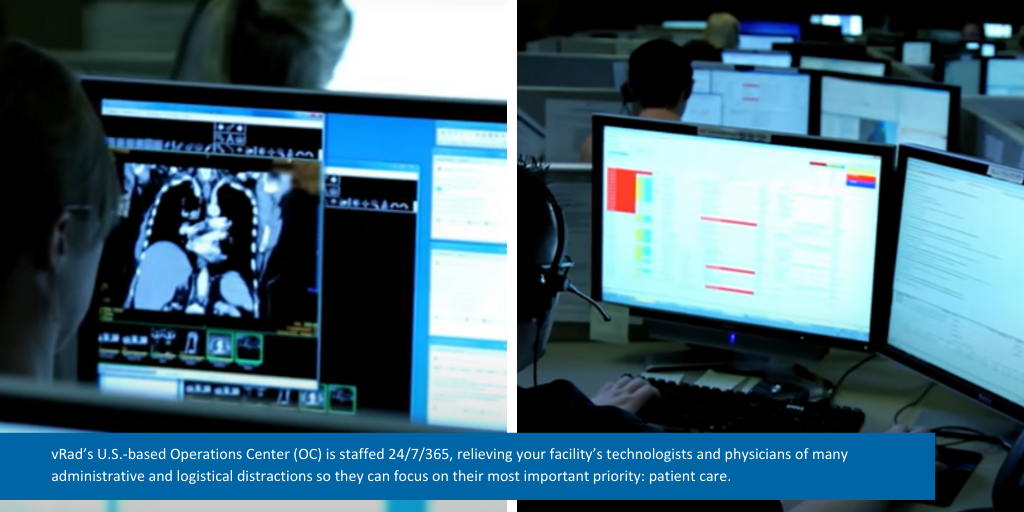 Did COVID prompt the sale of vRad?
A lot of people have asked me this. The answer is, "No." The proposed sale was a strategic decision months in the making and it was made independent of the coronavirus.
Actually, the outlook for vRad is strong relative to COVID-19. Through the early months of the pandemic, imaging volume plunged by half forcing many practices to cut staff. However, vRad retained all of our radiologists in a practice that regularly handles over 20,000 studies in a day, and over 7 million annually.
Now, as imaging is rebounding, vRad continues to serve our clients without interruption and sign significant new business. We are ready to respond as volumes return to whatever post-COVID "normal" may be. What's more, hospitals and practices that had trimmed staffs during the pandemic are recognizing vRad's Virtual FTE program is a flexible option for rebuilding their imaging capabilities.
So, COVID didn't prompt the decision to sell, and it shouldn't make us any less attractive to a potential buyer. We have nearly returned to full volume, and are back to focusing on growth to exceed pre-COVID levels. Which is why we also continue to onboard new radiologists.
If you're a radiologist thinking of a career change, I urge you to read why Dr. Cohen says he made a mistake leaving vRad in 2019 for a teleradiology position at another well-known national practice – and the many reasons he was ecstatic to come back to vRad just 9 months later.