You don't have to work in the information security industry to know the challenge virtually all organizations face.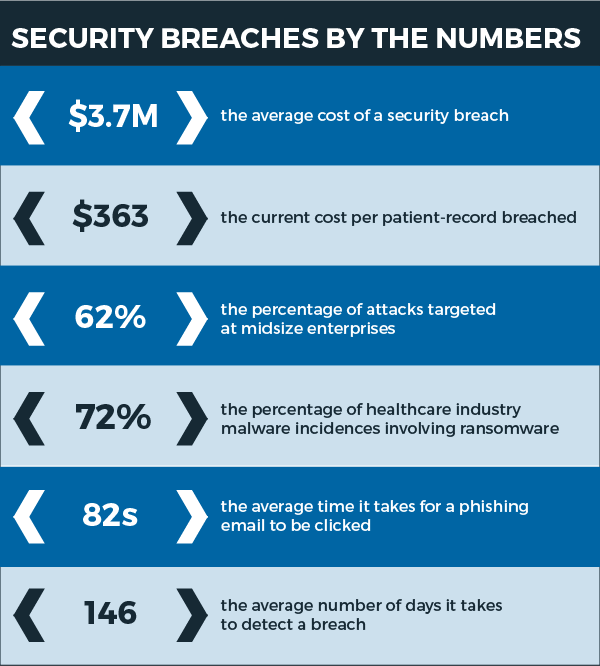 Sources: 2016 Ponemon Institute Cost of a Data Breach Study (IBM); Ponemon Institute Fifth Annual Study on Medical Identity Theft; Hacked: The Implications of a Cyber Breach, Timothy Francis, Travelers; Verizon, 2017 & 2015 Data Breach Investigations Reports; FireEye, 2016 Mandiant M-Trends EMEA Report.
Stats like those above are everywhere. Reports of high-profile security breaches splash across the headlines with regularity.
And if you work in healthcare, like me, the challenge can seem especially daunting.
Often tasked with providing instant access to information, we are also responsible for the security of massive collections of sensitive personal data.
But before you throw up your hands, let me offer some good news: It is possible to help protect your organization and keep it out of the headlines.
And that, in fact, is the subject of a recent webinar hosted by vRad.
Special guest speaker: John Gomez
Watch me and John Gomez, CEO of Sensato Cybersecurity Solutions, as we look at strategies for protecting your organization against the threat of cyber attacks.
We were fortunate to have John, one of the industry's most respected experts on cybersecurity, join us to share his insights on:
— The healthcare cybersecurity landscape, including current threats and what's at stake
— Assessing your organization's cybersecurity risks
— Building and maintaining a sound information security program
— Often overlooked regulatory requirements
— Best practices for working with managed-service providers
Our goal for the webinar was to offer information that will be helpful to everyone concerned about data security—from IT to the executive management team.
Recording: May 11 Healthcare Security Webinar
What:
An information security webinar ("45 Minutes to Radiology Data Privacy and Security—Practical Insights to Help you Avoid the Headlines")
Who:
Sponsored by vRad, the webinar features John Gomez, CEO of Sensato Cybersecurity Solutions and Patrick Williamson, vRad senior director of IT & security officer
Why:
To help organizations protect their valuable interests and identify proven strategies to safeguard against cyber attacks.
Free Security How-to Guide
The information security guide is tailored to the special needs of healthcare organizations and offers a step-by-step map to building a formidable information security program.