Through CGI (computer-generated imagery), the folks at Pixar – creators of Finding Nemo, Toy Story, and Monsters, Inc. – allow audiences to explore and experience incredible worlds of perceptible dimension, nuanced shading and subtle detail.
By applying similar technology to medical imaging, cinematic rendering enables the mapping of internal organs and structures with precise 3-dimensional detail using standard CT and MR scans, providing cardio specialists enhanced insights for diagnoses and treatment plans.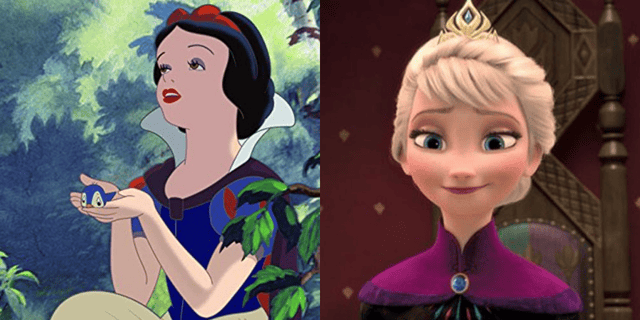 How do cinematic and volume rendering compare?
In animated feature-film terms, think Snow White (1938) versus Frozen (2013). Note Princess Anna's facial features (right) and full eyelashes; you can detect individual strands of hair and etched wood on the throne behind her.
Simply put: Clearer, More Realistic Images
3D cinematic rendering (3DCR) has demonstrated the potential to uncover pathologies that may have previously gone undetected. In the August 2017 issue of American Journal of Roentgenology, Elliot Fishman and Pamela Johnson from John Hopkins University used 3DCR to help determine whether a diagnosis of aortic dissection was actually an anatomic variant. 3D volume rendering images were insufficient to enable conclusive interpretation.
Both 3D rendering techniques utilize the same CT and MR scanning technology. The difference between 3D volume rendering and 3DCR lies in computer algorithms. Volume rendering uses a single virtual light source. Cinematic rendering employs billions of virtual light sources, illuminating the subject from every angle. This allows 3DCR to provide more realistic and accurate images yielding greater depth perception and enhanced anatomic assessment.
More Accurate Cardiac Diagnoses and Better Care
Cinematic rendering promises to provide cardiac clinicians and their patients better information with which to assess treatment plans for:
Complex congenital heart disease, beyond the limitations of 2D and 3D volume imaging
Intracardiac tumors, providing clearer perspective of positioning for better operative planning
Coronary artery bypass, to identify graft locations, plan placement and surgical technique, and for post-operative detection of possible aneurisms or other issues
3D volume images haven't been adopted as widely as originally expected, in large part because they don't provide significantly more diagnostic information. 2D imaging still allows fast, accurate, cost-effective diagnoses, especially in emergent situations. Cinematic rendering has the potential to provide radiologists and clinicians with more realistic views, and the ability to see all the way around structures, warranting much broader application of 3D imaging as the technology becomes mainstream.
More Patient-Centric Imaging
As the industry moves toward a more patient-centric model, 3DCR gives patients a much better sense of what their scans signify, empowering them to be more involved in health decisions. And when patients understand the implications of what their images represent, there is better adherence to therapy and follow-up.
The software required to produce 3DCR images is in the latter stages of development – testing and coding to ensure it can consistently delineate CT and MR data into accurate cinematic renderings. This process may yet take several years. Once complete, the only limitation to widespread adoption may be computing requirements. Cinematic rendering requires substantially more computing power than volume rendering, though many currently available graphic processors and systems will be up to the task. For those ready to adopt 3DCR, some IT upgrades may be in your future.
About the Author