Radiologists must design protocols that enable clinical partners to achieve stroke certification. Medicine is at the forefront of a revolution in stroke diagnosis and treatment, as my colleague Dr. Dym elucidated in 2018.
Independent certification empowers the care organizations that will lead the fight against the disease, helping ensure staffs are armed with the best tools available today and over the long term. Imaging is a vital component in every stroke center toolbox.
Benefits of independent certification for stroke care
Every medical certification program is about collective knowledge and expertise supporting proven guidelines and best practices. In the digital age of artificial intelligence and precision medicine, the tenets of certification promise exponential advancements in care for virtually every disease. Active involvement in certification programs is a powerful way to engage clinical staffs and keep them apprised of changing standards and guidelines.
With regard to stroke care, these changes will be substantial over the foreseeable future. Early results from ongoing trials – such as the DAWN Trials – are redefining stroke victim diagnosis and care practices, including much broader opportunities for additional neuroradiological studies to help improve patient outcomes.
Stroke certified care organizations promote community confidence in the quality and safety of their treatment and service offerings, and attract increased patient volumes based on emergency medical service protocols.
The big picture
A number of qualified organizations offer stroke care certification programs. All are driven to improve the lives of stroke victims by engaging care providers in best practices that ensure better outcomes. Amen to that.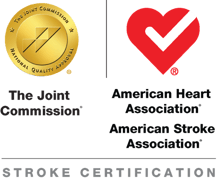 To help ensure vRad protocols and performance meet stroke certification standards, we maintain an ongoing relationship with The Joint Commission. Their advanced certifications for stroke centers are offered in collaboration with the American Heart Association/American Stroke Association (AHA/ASA), through which they certify the most stroke centers in the U.S.
The Joint Commission offers four advanced levels of stroke certification, ranging from stroke-focused emergency facilities to long term complex stroke care providers.
Acute Stroke Ready Hospital (ASRH) for hospitals or emergency centers with a dedicated stroke-focused program
Primary Stroke Center (PSC) for hospitals providing the critical elements to achieve long-term success in improving outcomes
Thrombectomy-Capable Stroke Center (TSC) for hospitals providing endovascular procedures and post-procedural care (newly introduced in January 2018)
Comprehensive Stroke Center (CSC), the most demanding certification, for hospitals that have specific abilities to receive and treat the most complex stroke cases.
Illustration courtesy of the Joint Commission
Detailed requirements for hospital systems may be found through The Joint Commission website.
Currently, The Joint Commission certifies approximately 45 ASRH, 1,100 PSC and 153 CSC hospital systems. We expect the total number of certified stroke centers to grow substantially in the coming years. Additionally, many hospitals are pursuing higher-level certifications, to better patient care while securing competitive advantage in their markets.
Radiology essential to the composition
Imaging is a fundamental component of certification. At every certification level, hospitals must demonstrate the ability to deliver a timely, accurate non-contrast head CT in emergent situations. At more comprehensive levels, hospitals need immediate access to neuroradiologists capable of advanced reporting, such as contrast CTA or perfusion studies.
vRad is immersed in the diagnostic imaging standards, guidelines and performance measurements required at each level of Joint Commission AHA/ASA certification – from emergency facilities working toward ASRH certification to hospital systems pursuing CSC accreditation. Our comprehensive tracking and reporting provides all necessary imaging-related documentation to satisfy Joint Commission requirements at every level.
Teleradiology opens door for many seeking certification
Teleradiology is playing a critical role in making certification accessible to hospitals.
Hundreds of smaller and rural hospitals were previously challenged to meet diagnostic imaging requirements. For many outlying care facilities and emergency centers, it is simply impractical to have qualified specialists on site 24/7. vRad radiology services can provide immediate access to one of our 75+ neuroradiology subspecialists around-the-clock, helping hospitals meet even the most stringent certification requirements for stroke imaging.
For larger hospital systems, we can effectively augment the in-house radiologists' workflow, ensuring certification standards are met during off-peak hours or in the event of a spike in demand. Each hospital can be prepared to deliver timely, accurate studies under virtually any circumstances without compromising patient care. vRad currently provides stroke services to over 1,400 facilities including 140 Stroke Centers.
Ultimately, for each one of nearly 800,000 stroke victims every year, certifications promise to significantly improve the quality of care regardless of where and when onset occurs.
Learn More About Stroke Imaging Success in the New DAWN Paradigm