From health and safety concerns to the economy and job security, the COVID-19 crisis has resulted in significant changes to how we work and how we live.
Millions of Americans became telecommuters overnight and many radiologists who were accustomed to working in a traditional setting found themselves in unfamiliar territory—at a new home-workstation. For many, there were other new challenges—trying to work in close proximity with family members, adapting to no childcare, helping with e-learning, managing new "virtual work" technologies, etc. For most everyone it became clear, there was a growing need for work-life balance, work stability and work support.
I recently sat down with three vRad radiologists — veterans of working remotely — for a round-table on the impact of COVID. I wanted to hear about their experience, how they are adapting, and what it's like to work as a teleradiologist through the pandemic.
Thank you for joining me today. I know you are all parents of young and school-aged children, so I'll start there with a question to you Dr. Geatrakas—are you getting pulled in a few more directions at home these days?
Chris Garcia, MD: Our childcare went out the window as soon as the craziness started as well. My wife is a physician working evenings at the children's hospital here in Connecticut. So, I do the early mornings and late nights while she handles the nine-to-five part.
Nina Geatrakas, MD: Oh definitely, who isn't! My husband is also a radiologist at a local hospital so when we lost our access to childcare, we found ourselves parenting our one-year-old around the clock.
So, despite being veterans of working remotely, it sounds like you're facing the same challenge as many of us—juggling the roles of home and work life simultaneously. How about your typical workday—in the chair, reading studies—how has that changed?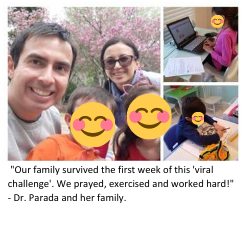 Sandra Parada, MD: You know, from the practice side, things haven't really changed. Volume has definitely been down, but it's been a huge help that we never experienced a total loss. I've been incredibly fortunate in that way. Not only was I already set up for working remotely, but they [vRad] were able to adapt so quickly that none of us were furloughed or laid off. I know that hasn't been the case everywhere. I've heard of radiologists in traditional practices who are not getting work — and not getting paid — due to volume dropping off. It's hit them hard. On top of that, many radiologists working on site are afraid to go back to work. Nobody wants to potentially expose themselves or their families.
Dr. Garcia: I started hearing about medical services being cut and staff being furloughed at local hospitals immediately. So, the fact that vRad dealt with a volume dip by spreading it equally among all the practice without layoffs or forced furloughs was an enormous help.
Dr. Geatrakas: I can elaborate here because I have insight into the operations of our practice as a medical director. Chris is referring to a series of changes we made to our study assignment rules very early on in the pandemic to distribute cases in a way that gave everyone a fair chance at getting work—to make sure everyone was able to "keep their lights on."
How big a role would you say vRad's existing infrastructure had on your ability to weather the storm?
Dr. Geatrakas: No question, our established technology platform and operational infrastructure were critical in our ability to provide a greater level of stability for vRad radiologists. Traditional on-the-ground practices are being challenged to build their work-from-home networks from scratch. They have to procure and distribute workstations, establish secure connections, develop workflows—all of this is a challenge for radiologists and hospital IT staff not used to working remotely. And it comes at the cost of the radiologist, the practice and ultimately the patients. vRad had a major advantage in this regard. Our radiologists were already at home with secure connections, integrated with a wide variety of facilities all over the country. It's the core of what we do. So, while there has been a loss in volume for radiology practices across the board, our loss was mitigated by the diversity of practices and facilities we serve.
Dr. Garcia: It's funny, in residency there was hardly any mention of teleradiology and when it came up it was almost taboo. Now, it seems like everyone is doing some sort of remote reading out of necessity for staying healthy and providing continuity of care. In hindsight I'm really glad I took that leap of faith.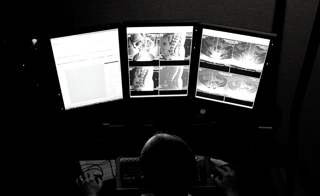 Dr. Parada: I totally agree. That has been my experience as well. I recall not wanting to tell anyone when I started doing teleradiology because I knew what the response was going to be, "You're doing what? You are too young! You're going to be completely isolated! You are not going to learn!" I found the reality to be exactly the opposite. I feel very connected to my colleagues and getting a second or third opinion is easy. And I never have to share my workstation! The most powerful benefits though have become very clear as a result of the pandemic—both for me and for my patients. I'm very grateful to be where I am.
Thank you all for this insightful conversation.
Dr. Garcia: This conversation has reminded me of the many things I don't have to worry about—like unfamiliar technology or trying track down ordering physicians from home. Those things just don't really affect me. I'm able to focus on my work and my patients, giving every case the best attention I can.
Dr. Parada: I feel like I'm doing something for the community that is important, especially now. I'm able to do my part and make a difference without exposing myself and my family to the virus. I can do what I was trained to do, what my vocation is, what I like to do. This is such a blessing every day.
Dr. Geatrakas: vRad has been ready for this type of event long before its occurrence. We've had this model in place, we've integrated with our clients, with our hospitals, we've been ready to go. In the end, it's allowed us to be able to care for our radiologists at a very human level, at a parent level, at a family level. It's wonderful to hear the fruits of this from my colleagues today.
---
About our Panelists:

Nina Geatrakas, MD is a Medical Director at vRad, serving as a clinical bridge between radiologist practice, systems and operations, and clients. She is also a new parent of a one year old and lives near Boston with her husband who is also a radiologist.

Sandra Parada, MD is a neuroradiologist who lives in Georgia where she and her architect husband both work from home and raise their two children, ages five and eight.

Chris Garcia, MD started working with vRad after completing a fellowship and lives in Connecticut with his wife who is also a physician. They are the parents of a 1-year old.