Originally published by Michael Walter as "Doing what you love: Why residents and fellows are considering careers in teleradiology" on Radiology Business
When Christopher Garcia, MD, MHS, completed his post-residency fellowship in 2015, he was looking forward to kickstarting his career in radiology. As he considered the variety of job opportunities before him—joining a private practice, working at a hospital—one option made more sense than any others: reading remotely from ­­­­the comfort of his Connecticut home as a teleradiologist.
"My favorite part of radiology was always reading cases, especially emergency cases" Garcia says. "So, I was looking for a job where I could do as much of that as possible. I knew teleradiology would let me focus on that without any extra additional administrative work or academic research, and that appealed to me. I wanted to do what I enjoyed the most."
That push to do what he loved led Garcia to vRad, the largest teleradiology provider in the United States—and he's been there now for five years and counting.

The truth about teleradiology
Garcia recalls that he almost never heard anyone discuss teleradiology during either his residency or his fellowship.
"I had almost no exposure to teleradiology at all before I was actively looking for a job," he says. "I never heard from anyone who had done it, and the little information I did pick up along the way was almost always inaccurate."
This experience is certainly nothing new. People often make inaccurate assumptions about teleradiology, and trainees with no other context may be tempted to accept these statements as the truth.
For starters, consider the common myth that radiologists need years of experience at a hospital or private practice before they can work in teleradiology. This is 100% false, Garcia explains; if anything, teleradiology makes more sense for an early-career radiologist than any other position.
One thing that makes teleradiology such a strong fit for new radiologists is the feedback provided on a regular basis. At vRad, for instance, specialists often have their cases reviewed the very next day. This leads to continuous improvement, the kind that helps a good physician become a great one.
"Compare that with starting out at a private practice, where you're likely going to start flying completely solo and doing emergency reads overnight," Garcia says. "You're on the trapeze with no net at that point."
People also worry that teleradiology may be too isolating—that you aren't getting the "real-world experience" you need when you read cases from home. But as Garcia is quick to point out, radiologists are going to be fairly isolated no matter what. Even at the busiest hospital in the country, you're spending most of your day manning a workstation in a quiet reading room.
Teleradiology gives clinicians more freedom to do the things they love when they aren't reading cases. There's no driving to work, no getting caught in traffic, no stopping for gas or coffee … those things add up, Garcia says, and a teleradiologist ends up with several bonus hours of "me time" each and every week.
Teleradiology, the burnout buster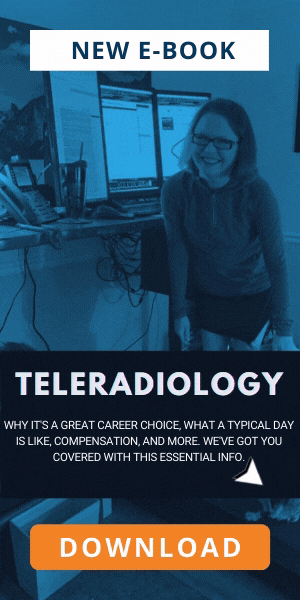 The Joint Commission Journal on Quality and Patient Safety recently determined that radiology is one of the most mentally demanding specialties in all of healthcare, and several studies over the years have confirmed that radiologists experience consistently high levels of burnout.
These findings highlight why it is so incredibly important to consider your mental health when beginning your career. Especially now, at a time when everyone seems a bit more stressed than normal, it's worth considering how your decisions will affect the way you feel on a daily basis. For Garcia, that was one of the primary reasons he landed on teleradiology; he knew outside distractions and day-to-day annoyances would be kept to a minimum, helping preserve his mental health so that he can enjoy his personal time when work is done for the day.
"It's amazing how much better you feel when the daily frustrations you grow used to as a trainee are gone," Garcia says. "Things such as dealing with internal bureaucracy and interacting with personalities you happen to clash with—even little things like driving around a parking garage for 15 minutes every morning—you don't have to deal with any of those things as a teleradiologist. You can just do your job."
A strong support staff, whenever you need it
One of Garcia's favorite things about his time as a teleradiologist has been the support he receives from his colleagues. He was paired with an advisor when he first started, providing "an additional level of support that a lot of starting radiologists don't get to experience." The advisor is always available to Garcia to answer questions, make recommendations or simply listen when he needs to talk.
In addition, Garcia adds, vRad has always been endlessly helpful when it comes to handling licensing and credentialing issues. He had to get his first state medical license for his post-residency fellowship and recalls everything that was required—the paperwork, the confusion, the fees. Now, when vRad needs him to read cases in another state, they take on the heavy administrative burden for him, leaving it so that Garcia only needs to proofread the documents and sign his name. vRad even pays for everything, highlighting the company's faith in his ability to provide high-quality patient care.
vRad also provides 24/7 support when it comes to workstation training and IT issues, which Garcia says has saved him from countless headaches over the years.
"The only thing you have to worry about is reading the case in front of you as well as you possibly can," he says. "For everything else, vRad provides you with people who can help."
A smart decision
Overall, Garcia says, he's thrilled with his decision to make the jump straight from training to teleradiology. It provides exactly what he was looking for in a career—and none of the day-to-day things he was hoping to avoid.
"If your favorite part of radiology is reading cases, solving the case and providing patient care, then teleradiology is right for you," Garcia says. "If you prefer interdisciplinary conferences, training residents, attending hospital board meetings and handling administrative work, teleradiology is not the job for you."