With the transition from year one (2017) to year two (2018) in the Merit-based Incentive Payment System (MIPS), there are several noteworthy changes to the program:
MIPS: Comparing CY 2017 to CY 2018
POLICY TOPIC
TRANSITION YEAR 1
(Final Rule CY 2017)
YEAR 2
(Final Rule CY 2018)
Exemption for Newly-enrolled in Medicare
• Clinicians enrolled in Medicare for the first time during the performance period are exempt until the following performance years.
• No change
Low-volume threshold exemption criteria
• Excluded if you or your group has ≤$30,000 in Part B allowed charges

or

• ≤100 Part B beneficiaries

Increased threshold:

• Excluded if you or your group has ≤$90,000 in Part B allowed charges

or

• ≤200 Part B beneficiaries

Non-patient Facing
• Individual - If you have ≤100 patient facing encounters (Identified by billed E&M and surgical and procedural codes).

• Groups that have > 75% of their NPIs billing under the group's TIN during a performance period labeled as non-patient facing.

• Individual (no change)

• Group (no change)

• Virtual Groups have same definition as groups.
There are also changes to the weighted scoring system: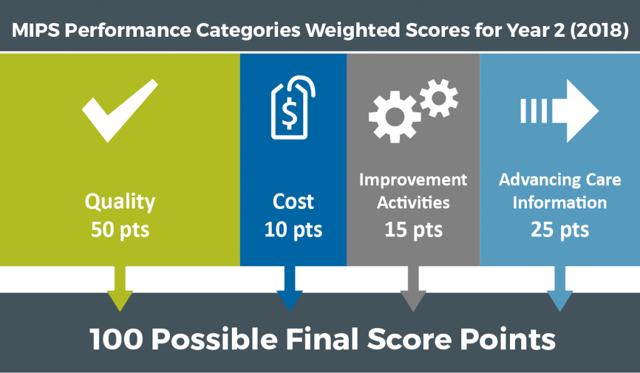 Your performance scores from each category are added to calculate your MIPS final score.
Your MIPS final score is compared to the MIPS performance threshold to determine if you receive a positive, negative, or neutral payment adjustment.
Non-patient facing clinicians automatically get weighted to 0 for the Advancing Care Information category (also hospital-based clinicians). The 25 points are reweighted to the Quality category.
CMS anticipates that non-patient facing MIPS eligible clinicians will not have sufficient cost measures applicable and available to them and would not be scored on the Cost Performance Category. It is likely that CMS will reweight and assign Cost category's 10 points to the Quality category as well.
While many radiology practices were not participants in the MIPS precursor Physician Quality Reporting System (PQRS), an increasing number are exploring the pros and cons of enrollment in MIPS. With potential incentives and penalties as high as 9 percent of Medicare reimbursements, the financial risks and rewards are certainly significant.
Others have taken notice, at least in part, because they anticipate a healthcare culture in which savvy patients choose providers with the aid of Centers for Medicare & Medicaid Services (CMS) Physician Compare website. This website is designed to help consumers make informed choices about the health care they receive through Medicare.
With this increased interest in MIPS, I'm frequently asked for my recommendation for practices with regard to the program. While there's no blanket yes or no answer to the question of whether MIPS is right for you, here are my three best recommendations for any practice weighing its options.
1. Form a MIPS team
Develop a MIPS leadership team or task force. Bring people together from several areas of your practice, everyone from physicians and practice managers to IT leaders and coders.
The team's first task should simply be to determine if and how your practice will participate in the program.
The CMS has some very helpful tools on their website to help practices determine if they qualify for the program and what benefits they may derive.
The CMS help desk is also very responsive to email and phone questions.
With the help of CMS resources, your organization's MIPS team can address questions at the core of the MIPS opportunity.
Does participation make sense for your size practice? What measures should you report? Which measures best fit your unique patient population? Does it make sense to report as individual physicians or as a physician team, reporting an average group score?
Even if your decision is to decline participation in MIPS, keep your team together to perform at least annual reviews of the program as it and your practice evolves.
2. Continually evaluate your MIPS efforts
For practices that decide to participate in MIPS, it's vital that your MIPS team continually evaluates the effectiveness of your practice's efforts.
If, for example, physicians aren't receiving feedback on their efforts, they won't be able to improve or focus their efforts on important quality measures.
If you've identified challenges or shortcomings, a cross-functional MIPS team can address them from many different angles. Simple education opportunities may be enough to tackle some challenges.
Others may require an investment in time and resources. For instance, are there ways IT can help automate some of your processes to remind physicians about reporting requirements or best practices?
3. Get everyone involved
As with any program aimed at facilitating improvement, MIPS needs to remain top-of-mind to everyone who influences your practice's performance.
That goes well beyond your MIPS team.
It's critical that everyone in your organization knows what's at stake when it comes to the program. And they need to understand their role in pursuing the practice's MIPS goals.
And while you will surely share news of goals and challenges related to MIPS, don't forget to also take time to celebrate the successes and milestones in your MIPS journey.
Watch the Two Part Webinar Series: 2018 Reimbursement and Coding
Recorded January 24th, 2018 | Survive Year 2 of the Quality Payment Program – Tips and Tools to Thrive
Recorded January 31st, 2018 | Survive 2018 Coding and Medicare Payment Policy Updates for Radiology – Tips and Tools to Thrive