More than 50,000 radiologists and industry professionals recently gathered at McCormick Place in Chicago for RSNA 2019. Among them was Shannon Werb, President and COO of vRad, a MEDNAX Radiology Solutions company. We caught up with him to get his take on the show.
What were your goals for MEDNAX Radiology Solutions and vRad going into the show? How well was the team able to meet them?
We had two main goals: 1) Drive recruitment and retention of the physician practices across MEDNAX Radiology Solutions, and 2) connect with our current and future partners, both through the vRad teleradiology business and through our on-the-ground practices within MEDNAX Radiology Solutions.
AI underpins all of this. We set out to demonstrate how AI is really expanding the capabilities we have within our technology platform, creating the best place for physicians to practice and the best resource for clients seeking both on-the-ground or in-the-cloud radiology services.
Case in point, our CIO, Imad Nijim, in partnership with IBM Watson Health Imaging, launched an update around our vision and implementation roadmap for artificial intelligence. Then our chief medical officer, Dr. Ben Strong, actually showed four independent use cases of real patients that ran through our AI models, including how the doctors benefited and, most importantly, how the patients benefited. Granted I'm biased, but I found that to be a really compelling message. Nobody else has taken radiology AI innovation this far.
Also, our recruiting team just did a phenomenal job in getting the word out. Physicians showed up in our recruitment booth. They showed up in our main booth. They showed up at our recruiting event. Heck, we were negotiating physician contracts on the floor, which I've never seen happen before. It felt very rewarding to see the hard work that the team put into making the whole event successful.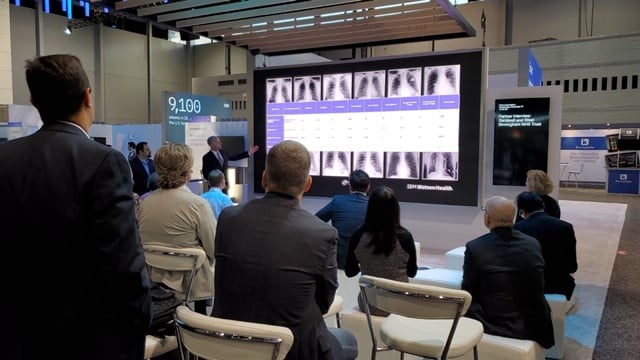 According to what you saw at RSNA what is the biggest challenge facing radiology practices today?
Radiology is going to continue to grapple with shortages of radiologist capacity to service the ever-increasing imaging demand. It was evident to me that this problem is not going away anytime soon. In fact, it's getting more acute and the challenge is clearly global in scale. As an example, we had numerous conversations with teleradiology providers from across Europe, South America and Asia. They are grappling with growth, and they're dealing with making sure that they can scale their businesses for their local markets. These companies were reaching out to us as they're trying to figure out how to scale their organizations like we've done over the last 10 years or so. Likewise, although I'm very proud to see the success of our radiologist recruiting and retention efforts during RSNA it remains clear that the US based challenges are also continuing.
So how do you feel the industry is positioned to meet this challenge?
At RSNA, a lot of people were talking about innovation and technology for PACS, workflow, and driving an efficient radiologist worklist. These technologies, in my opinion, are pretty mature. Sure, the use of artificial intelligence is changing the way we think about radiology services and the technology that supports it, but generally speaking the overarching market is quite mature. The software vendors and manufacturers that design them have an interesting challenge in that they need to make a product that is accepted across a broad customer base. Which means to me that the product is somewhat diluted in its ability to meet one's exact needs. It's trying to meet the 80% needs of everybody, a "well balanced" product, versus the 100% needs of one, the exact product I need to drive quality and efficiency to the greatest extend possible.
The radiology market is disrupting how these technologies are delivered. Companies like ours bring our own toys. We're able to build the 100% product and deliver it more cost effectively than a traditional PACS/workflow vendor. That's because we can create the best possible environment for our doctors, and can interact with them without the distraction and noise of worrying about all the other customers. We have one customer, our practice, and those practices we're affiliated with that are connected to our nationally scaled vision.
AI continues to be a big topic. Based on your time at RSNA what's the state of radiology AI?
The market continues to be highly fragmented. I was surprised at the number of AI vendors at RSNA. I think there were nearly twice as many as we had last year – three times what were there the year before. While a lot of them are coming out of the United States, many of them originate overseas – places like Korea, China and Israel. It's interesting to see how the regulatory climate in other countries enables those vendors to move pretty quickly. That said, it's still highly fragmented, with a lot of venture-backed, single-AI-model companies that I think are going to have a really hard time making a run at it. Practices need much more than a single-AI-model partnership. The "AI Marketplace" vendors have a unique opportunity: Can they solve the last mile problem and integrate multiple models into a single environment to create real scale and value?
I was really proud of the vRad and MEDNAX teams and what we communicated at RSNA around the use of AI. I think we were the only company that is actually showing real clinical use cases – real patients, real radiologists, that have been helped by the AI models in our platform today… at scale.
Learn more about AI in Radiology and download our recent white paper.
Of course, we've already started planning for next year's show. I'm excited to see where the industry goes in 2020.