The vRad Imaging Platform employs multiple AI models in processing over 20,000 radiology studies each day. Silently prioritizing critical cases is one way our radiological AI is improving patient care.
AI helping deliver on healthcare mission
Joshua Morais, MD, was my resident at the University of Arizona, where he also completed a neuroradiology fellowship before coming to work for vRad in 2009. One afternoon in 2019, from his reading room in Walnut Creek, California, Josh opened the next case on his vRad worklist. The non-contrast head CT of an Iowa woman revealed acute intracranial hemorrhage. Dr. Morais urgently reported his diagnosis to the ordering physician, just 2.9 minutes after the CT images had been uploaded.
What Josh didn't know at the time was that a proprietary vRad AI algorithm had identified the criticality of the woman's case and elevated it to the top of his worklist. This enabled him to quickly deliver his findings — getting the patient to surgery 10 minutes faster with AI than the typical time. Learning of this later, Josh remarked: "For this patient, I have no doubt AI was a critical element for her survival. AI is helping us deliver on the full scope of our healthcare mission."
AI worklist prioritization
AI helps ensure potentially critical patients receive priority attention by assessing individual cases based on identified criteria.
How AI operates. Using trained convolutional neural networks (CNN), proprietary vRad AI screens thousands of cases daily, accurately recognizing images that exhibit a high likelihood for specific pathologies and immediately moving critical cases to the top of radiologists' worklists. Unlike other "triage" models, our AI does so silently, without alerting the provider that the case was flagged by AI. This allows our radiologists to continue to use high vigilance to screen cases on the clinical conditions they identify without bias.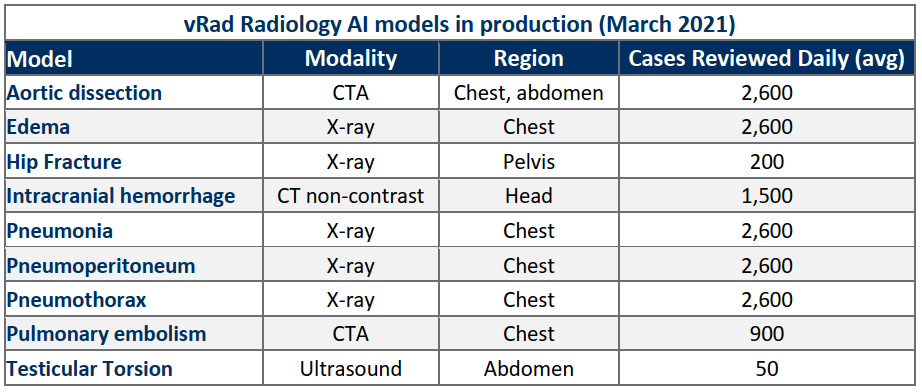 The radiologist's experience. Using AI for prioritization is transparent to the individual radiologist. While sitting at her workstation, she simply selects the next study on her worklist. Though the case may have been escalated by AI, there are no annotations on the images; there is no note to the radiologist with regard to the AI findings; there is no indication in the worklist that this case has been identified by the model. The radiologist isn't prejudiced or biased with knowledge of the AI result. She will simply review the case sooner than if AI had not elevated the case in her list.
Results. vRad Radiology AI algorithms are achieving above 90% specificity. With potentially critical findings detected and prioritized by AI:
14 critical cases each day are read an estimated 10 to 15 minutes sooner

than if the AI models had not run, accelerating appropriate care delivery to patients in need.

15 patients per month are provided care up to 24 hours sooner

when escalated from non-emergent.